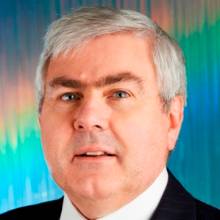 Russell E. Taylor
Former President of Wood Markets Group and Managing Director of FEA Canada (Retired)
Russ Taylor worked in forestry and sawmills in his early career before starting International WOOD MARKETS Group in 1992. With Wood Markets Group, Mr. Taylor focused on wood products market analysis and business assessment/investment analysis for industry clients and internal reports. During this time, Mr. Taylor traveled extensively to key producing, exporting, and importing countries in Asia, Russia, Europe, the Southern Hemisphere, and within North America. He also created several monthly newsletters and various reports that involve strategic outlooks for global markets.
In August 2017, Forest Economic Advisors (FEA) bought International Wood Markets Group and Mr. Taylor became Managing Director of its subsidiary, FEA Canada. In his role as Managing Director, Mr. Taylor was responsible for FEA's newsletters on global wood products markets. He also directed several studies on global wood products markets.
Mr. Taylor has published hundreds of articles and has made about 300 presentations all over the world. He has a forestry degree (BScF) and an MBA from the University of British Columbia and is also a B.C. registered professional forester (RPF-Ret).