11th China Global Wood Trade Conference
September 15 – 16, 2021
Nanning, Guangxi, China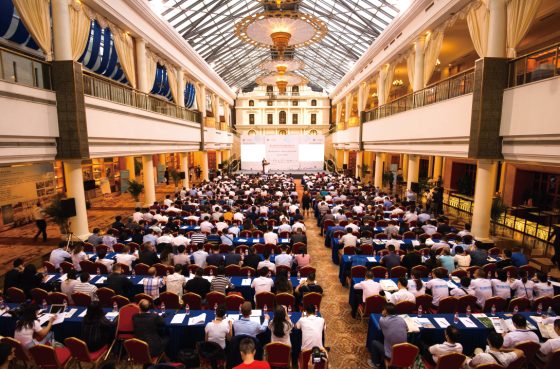 Register Now
The first half of 2021 has seen record sawtimber prices across the globe. High prices have been in part driven by strong demand in Europe and North America. This, combined with supply chain issues and trade restrictions, has changed traditional trade patterns and left many analysts and sawtimber traders questioning what they thought they knew about sawtimber markets.
FEA's 11th annual China Global Wood Trade Conference — co-organized with the China Timber & Wood Products Distribution Association (CTWPDA) in Nanning, Guangxi, China on September 15-16, 2021 — will help you gain a better understanding of global markets and China's role in them. The conference will feature a virtual/in-person hybrid model.
The China Global Wood Trade Conference is an annual event where global wood traders meet in China. The event attracts more than 350 participants, including wood suppliers/exporters, importers, wholesalers, distributors, manufacturers as well as trade associations, industry experts, government officials and representatives of international organizations from more than 20 countries in addition to China.
The 2021 event will address many critical topics, including: the sharp rise in global sawtimber prices (when will they come down and to what level?), the continued rise in European imports, the effects of increasing trade restrictions, and economic and end use developments. It will also explore supply/import trends for logs and lumber that will continue to create uncertainty in China in 2021-2022.
Additional event details will be released soon. Please contact Lisa Kelly with any questions.
Agenda
Day 1 — September 15: One-day conference, virtual or in-person
Day 2 — September 16: All-day industry tour, in-person only
Day 1: Conference Morning Session

Time (UTC+8)

Title

Speaker

9:00

Introduction & Welcome Speech

9:30

The Future of Chinese Economic and Multilateral Economic Cooperation

TBA

9:55

Chinese Log and Lumber: Supply and Demand

Zhu Guangqian

China Timber & Wood Products Distribution Association

10:20

Guangxi: Forestry Development and Domestic Timber Supply in the 14th Five-Year Plan

Representatives from Guangxi

10:40

Coffee/Tea & Exhibition

11:00

The North America Lumber Market: When will markets return to "Normal"?

Principal (Lumber), FEA

11:20

Global Softwood Log and Lumber Supply and Demand

President, Russ Taylor Global

11:40

From Origin to Markets: How to Optimize the Supply Chain

China Timber & Wood Products Distribution Association

12:00

Lunch

Additional speaker details will be released soon. Schedule subject to change.

Day 1: Conference Afternoon Session

Time (UTC+8)

Title

Speaker

13:30

South America: Supply Challenges and Opportunities

TBA

13:50

Russia: Supply Challenges and Opportunities

TBA

14:10

New Zealand & Australia: Supply Challenges and Opportunities

Partner, FEA

14:30

Europe: Supply Challenges and Opportunity — A Supplier's Perspective

Managing Director, Mercor JSC

14:50

Panel Discussion: Supply

15:20

Coffee/Tea & Exhibition

15:40

Opportunities Under the New International Land-Sea Trade Corridor

TBA

16:00

Analysis of the Wood Import-Export Trade in China

President, Qingdao Timber Industry Association

16:20

Panel Discussion: How to Optimize the Wood Supply Trade

16:50

Conclusion & Exhibition

Additional speaker details will be released soon. Schedule subject to change.

Day 2: Industry Tour

Day 2 will feature an exclusive industry tour, including access to ports, the industrial park, and wood manufacturing facilities. Exact locations are subject to change.

Networking Add-ons

The China Global Wood Trade Conference works as a bridge between Chinese wood enterprises and global wood suppliers and manufacturers to encourage better communication within the industry as well as the sustainable development of the wood trade — both in China and abroad. The event is an exclusive platform to exhibit high-quality products to expand participants' reach and attract potential buyers.

Please register before August 30 to participate in either of the following networking options:

Table-top Exhibition (In Person Only)

In-person attendees are encouraged to visit exhibitors' tables during the conference. Registered participants are also welcome to purchase a table for their own use.

Only a limited number of tables are available. If you are interested, please make a reservation as soon as possible.

Business Matching (Virtual Only)

For attendees unable to attend the conference in person, an online networking option is available. Within two weeks after the conference, FEA/CTWPDA will match participants with suitable Chinese companies. Matched representatives will be provided with an exclusive access link and password to connect and participate.

Please submit the registration form before August 30 if you want to participate in the business matching portion. If some schedules are overlapped, companies will be prioritized based on sequence of the registration.

Frequently Asked Questions

Hosted by:
FEA | Littleton, MA
China Timber & Wood Products Distribution Association | Beijing, China